In Touch Weekly
isn't one to let facts get in the way of a good story, and
Jennifer Aniston
has definitely been dumped and lonely before, so there is historical precedent.
But the only walking out Justin Theroux did was likely from their apartment, to go on a date. Fear of commitment? He moved in with her like immediately. Yeesh.
Don't believe the misleading cover below: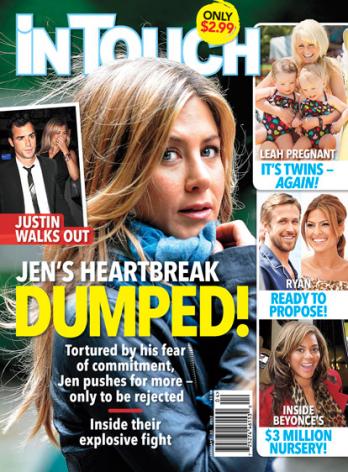 Not only are they still together, they appear happier than ever.
Right after
Jennifer Aniston
and Justin Theroux returned from 10 days together in Telluride, they got back to the business they love most: movies.
The Wanderlust costars, who have been romantically linked since May, were seen attending Monday's HBO screening of Paradise Lost 3: Purgatory.